Open Science Milestones and the return of in-person meetings at ISMB2022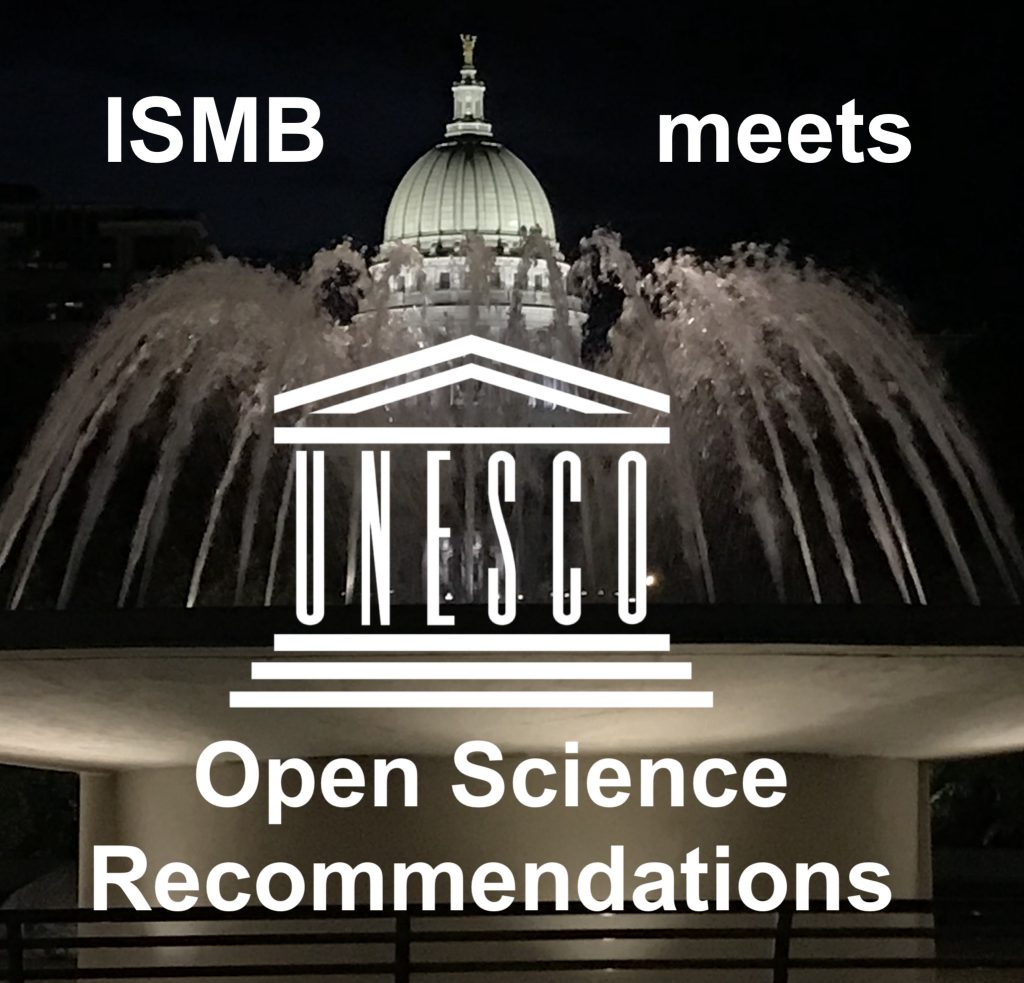 Live and in-person in Madison
A big part of the life of a journal editor is to travel to conferences, keeping on top of the state-of-the art of fields of interest, as well as interacting the research community that publishes, edits and peer reviews for your journal. The COVID-19 pandemic moving things virtual has had the potential (with caveats) to enable many individuals from groups that have traditionally been underrepresented to join and participate in these events, but with an increased focus on talks these lack the more personal interactions that occur at posters or between and after sessions. While the curation team has attended a few in-person meetings, the Editorial team had not attended any since PAG XXVIII in January 2020 until this week. As we launched at the Intelligent Systems for Molecular Biology (ISMB) conference in Long Beach in 2012, it has been a tradition every following year to celebrate our birthday celebrations at the conference. And after two years of virtual attendance and celebrations, with ISMB2022 celebrating its 30th year and GigaScience celebrating its 10th year there was no way we could miss the first in-person (hybrid) ISMB gathering since ISMB 2019 in Basel.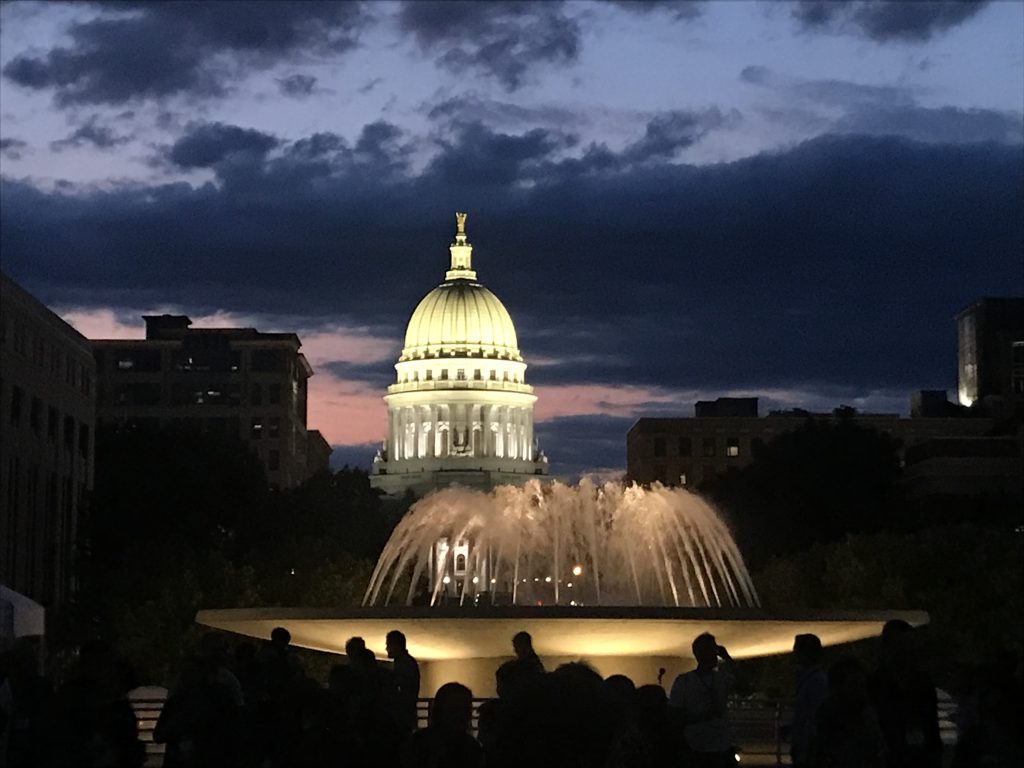 Traveling to ISMB2022 in Madison Wisconsin there was trepidation that after 3 years would people come? Many in the scientific community had been burned by society conferences such as SfN cancelling hybrid meetings at the last minute because of COVID-19, and anecdotally there have been a lot of shared stories about recent conferences spreading the virus to many of the delegates. The return of ISMB seemed to handle these worries well. With none of the "mission accomplished" bombast and disco dancing of FENS Forum, stringent masking and social distancing protocols in the conference venue, and an outdoor reception at the stylishly understated Frank Lloyd Wright designed Monona Terrace Convention Centre. With nearly 1,000 in-person attendees and 700 attending virtually it was a good test of whether relatively larger-sized conferences could be held safely and balanced with a hybrid/virtual format, and there were some teething problems with the JUNO platform in some of the sessions, but the in-person experience felt good. Making us more confident going forward to other in-person meetings such as the Galaxy Community Conference currently underway in Minneapolis.
Alles Gute GigaScience
ISMB2022 coincided our 10th birthday, and following the success of our previous parties we had a great turnout for Panda birthday cake and German food and drink in the huge outdoor garden of Essen Haus restaurant and bar. Timed for the birthday we also published a commissioned series of commentary papers giving a decade long view of advances in large-scale research as Open Science has gained momentum and become mainstream. And these were bound alongside the many other commentary articles we have published since our launch in a print issue that we gave out at the party alongside our always popular t-shirts (see the pictures on our facebook page).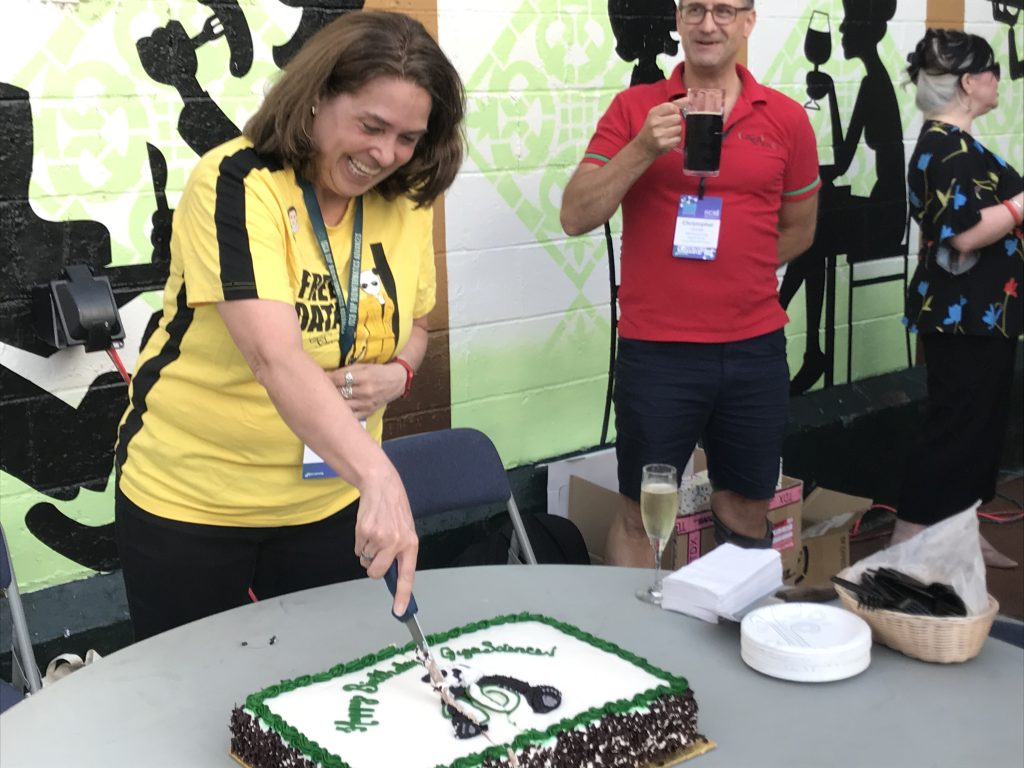 Building upon the efforts developing the ISMB Code of Conduct first adopted in the last in-person meeting, the ISMB organisers seems to have spent some of their pandemic downtime on addressing other issues relating to sustainability and equity. Launching a Sustainable Conference Travel Award to promote sustainable travel to scientific meetings by rewarding delegates who show environmentally friendly travel, and an ICSB Green Pledge that includes the planting of an ICSB grove of trees in the Scottish Highlands to offset the carbon emissions of travel to the meeting. To widen accessibility further the keynotes had qualified sign language interpreters, and there was also a series of Equity-focussed Research Presentations hosted by Casey Greene.
The talks at the conference were potentially more Open Science relevant than before, with keynotes even covering Citizen Science through Tanya Berger-Wolf presenting an amazing talk on the new field of "imageomics". Data science and machine learning can process massive collections of wildlife images, many citizen collected from iNaturalist and the wildme platforms, to enable scientific inquiry, conservation, and policy decisions.
The COSI (Communities of Special Interest) tracks are usually the most interest to us, and we started off in the CAMDA (Critical Assessment of Mass Data Analysis) track watching the keynote of Lynn Schriml, President of the Genomic Standards Consortium, presenting a talk that covered a lot of the same ground as the recent commentary she published in our "Decade of GigaScience" series. Alongside three talks from Serghei Mangul and his lab on the systematic assessment of metadata completeness from fields such as omics and immunogenetics.
BOSC and the Open Science Recommendations
Being advocates of everything "Open" we are regular attendees and supporters of the BOSC COSI: The Bioinformatics Open Source Conference, and this year we and OUP were again silver sponsors of the event. On top of promoting Open Source, the meeting also promotes Open Science, and this topic is particularly timely with UNESCO ratifying their Open Science Recommendations since the last meeting. Having a decade experience of Open Science publishing behind us before the field went mainstream with governmental recognition, we felt our birthday was a good opportunity to look back at what we have (and haven't) achieved, and use these recommendations to guide our path into the future. Writing an Editorial timed to go out with our birthday celebrations mapping these efforts onto the four key pillars of Open Science highlighted by UNESCO.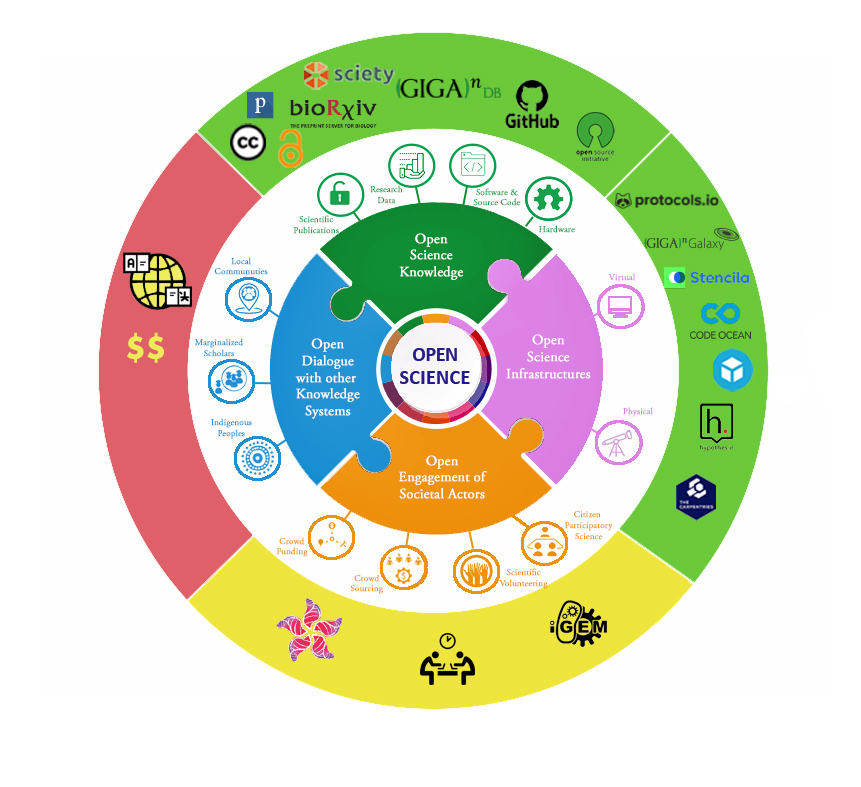 As this was all fresh in our minds coming to the meeting it was great to see many of these same issues keep coming up in the talks. With "physical" facilities for open science being a key part of the "Open science infrastructures" pillar highlighted in the Open Science Recommendations, BOSC is a great platform for this. Providing a space for the Open Bioinformatics Community to meet and share experiences, as well as hosting their CollaborationFest where participants work together to contribute code, documentation, training materials, and challenging analysis problems and use cases.
The opening keynote from Jason Williams was on "Riding the Bicycle: Including all Scientists on a Path to Excellence" channeling his extensive mentoring and experience as an educator at the DNA Learning centre to propose and develop the new "bicycle principles" for teaching. The proposed principles providing a community-driven principle-based framework for improving short-format training through two cyclic (hence "bi-cycle") and iterative processes, and is still gathering feedback at bikeprinciples.org. And conveniently also addressing UNESCO's objectives in investing in human resources, training, education, digital literacy and capacity building for open science.
This was followed by the "Standards and Practices for Open Science" session which did an excellent job of fulfilling the "open" part of BOSC's mandate, including talks on gender-based disparities and biases in science by Rachel Torchet, providing quantitative data on the issue by doing observational study of the French Bioinformatics communities JOBIM conference when it went virtual (see the preprint and our birthday series commentary on gender disparity in STEM). Noting the depressing finding that the improvements in gender balance gained in virtual conferences were lost as soon as the meeting went in-person again the following year. As well a talk from Halie Rando on the use of Manubot to promote Open Publishing in the "Infodemic", producing very cool updateable publications using COVID-19 data.
Continuing this Open Science theme right to the very end the final panel chaired by Jason Williams was on Building and Sustaining Inclusive Open Science Communities, and featured Jenea Adams, Andrew Hasley, Gary McDowell, Monica Munoz-Torres, and Rachel Torchet. This provided a fantastic range of perspectives and firsthand advice on community building, as well as an interesting Q&A. Concluding with the timely question on how we balance the advantages of virtual and in-person conferences, as this and other recent conferences demonstrate we are at an inflection point on whether we move from hybrid to in-person conferencing. Allowing the virtual participation has opened it up to a geographically and demographically more diverse audience (the technical problems of the streaming platform not withstanding), but there has been some vocal pushback from some of the in-person participants that they didn't want to spend all this time and money to fly here and not be able interact with the proportion of speakers and attendees participating virtually. With the observation from Rachel Torchet's earlier presented talk that hard won gains in accessibility and diversity can be lost when conferences go back to in-person, we may need to push to retain this rare positive from the last few years.
Our newly published mapping to the Open Science pillars to look at where we need to do better has helped GigaScience to focus on what we need to work on going forward, and we would recommend others look at the efforts presented here and the UNESCO Recommendations to inform your working practices in a similar manner. As in-person conferences seem to be well and truly back we look forward to ISMB and BOSC 2023 in Lyon continuing with the positive changes we've seen here to continue to make conferences more equitable and sustainable.
Further Reading
A Decade of GigaScience series: https://academic.oup.com/gigascience/pages/a-decade-of-gigascience

Schriml LM. A decade of GigaScience: 10 years of the evolving genomic and biomedical standards landscape. GigaScience. 2022;11:giac047. doi: 10.1093/gigascience/giac047.

Edmunds SC, Zauner H, Nogoy NA, Zhou H, Zhang H, Goodman L. A Decade of GigaScience: Milestones in Open Science. GigaScience. 2022;11:giac067. doi: 10.1093/gigascience/giac067.
Liu L, Jovic D, Goodman L. A Decade of GigaScience: Women in Science: Past, Present, and Future. GigaScience. 2022;11:giac069. doi: 10.1093/gigascience/giac069.