This little piggy had a genome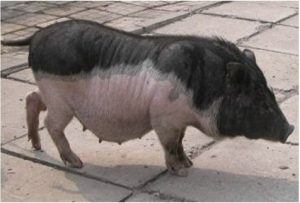 New research in GigaScience on the genome of the Wuzhishan minipig
The availability of a high quality reference genome sequence for a species is extremely important in the deeper understanding of its biology, evolution, and comparative genomics. Many important model and commercially significant organisms have been sequenced to date, and today marks the publication of the first studies on the whole-genome sequencing, analysis and production of reference genomes for the pig in Nature and GigaScience. The Nature study from the Swine Genome Sequencing Consortium (SGSC) presents the reference genome from the Duroc breed of pig that is an economically important food source, and in the latest study in our journal, researchers from the BGI and Beijing Institute of Animal Science focus on a miniature pig breed used for medical research.
While versions of the SGSC genome have been publicly available through ENSEMBL since 2009 (for more see the original genome analysis and publication strategy paper in BMC Genomics), the publications throw much light on the evolution and domestication of the pig, and the Nature study also includes the additional genomes of a number of European and Asian wild and domesticated swine species. The data supporting the GigaScience study has also been available for several months before publication from our GigaDB database, and having two high quality de novo assembled reference genomes publicly available from different strains is a fantastic resource for the swine research community. Already many studies have benefited from this data, and also released today is a series of accompanying articles covering pig genome structure and function, genome annotation, and findings of biomedical relevance in a number of BMC journals.
Pigs and humans have lived side by side for 10,000 years, and we have shaped their genomes in this time. They are one of the oldest domesticated livestock species, and as well as providing 40% of all meat consumed worldwide, they are also very important resources for medicine. Already they are used to produce medical products such as pharmaceutical-grade heparin, and the potential for use of pig organs in "xenotransplantation" is enormous, with replacement heart valves from pigs already being used in the clinic. The pig shares many of the same complex genetic diseases as humans, making them excellent models for studying the underlying biology of human disease. The Wuzhishan breed presented in our latest publication is a particularly good model for human medical research: its small size makes it easy to handle; and its long history of inbreeding have resulted in a breed of pigs made up of individuals that are genetically identical, allowing greater reproducibility in scientific analyses. The availability of the mini-pig genome provides a wealth of genetic tools that will enable detailed and well thought-out analyses and transgenic studies on an animal that shares a substantial number of complex diseases with the human. The work also revealed potentially actionable resources including the identification of the porcine counterparts of human drug target genes.
Small pig, big medical utility
To provide the best understanding of the genetics of the Wuzhishan pig from a medical perspective, the authors looked at genes and protein domains that were the pig counterpart of human genes that are important for therapeutic drug activity. These analyses showed that the Wuzhishan pig genome contained a very large number of similar drug target genes for several types of human disorders, indicating that this pig would serve as an excellent model for drug testing in such cases. However, the researchers also found that there were several situations where target genes showed important differences from the human versions. This information is of great use as well, as it provides a clear indication of the types of drug testing for which this organism is not as useful, saving unnecessary experimentation, time and money.
Lead researchers Dr Yutao Du and Prof Shutang Feng note that, "the physiological similarities to humans was maintained at a genetic level with 84% homology between the two species. While there was a great deal of similarity in genes known to be involved in coronary artery disease and drug target genes, detailed analysis showed that there were several important differences which need to be taken account of."
Many patients with end-stage organ failure are dying from worldwide shortages of human organ donors, and the similarities between humans and pigs at anatomical, physiological and genomic levels provide unique advantages for the use of pigs as a potential donor species for xenotransplantation. Scientists have been concerned about the presence of viruses hidden with the pig genome that could be transferred to the human patients through transplantation, although the authors found that one particular virus, porcine endogenous retrovirus (PER), has fortunately been lost from the mini-pig.
Overall, the extensive amount of work in these studies serve as a springboard for more economical and directed means of carrying out biomedical analyses and provide new resources for the investigation of economically important traits, domestication events, and the evolution of this group of animals.
To boost transparency of the peer-review process in GigaScience, the pre-publication history and referees reports from the Wuzhishan minipig genome are available to download and view, and all of the supporting data is available under a CC0 waiver and with an independently citable data DOI in GigaDB, as well as in NCBI.
References:
1. Xiaodong Fang, Yulian Mu, Zhiyong Huang, Yong Li, Lijuan Han, Yanfeng Zhang, Yue Feng, Yuanxin Chen, Xuanting Jiang, Wei Zhao, Xiaoqing Sun, Zhiqiang Xiong, Lan Yang, Huan Liu, Dingding Fan, Likai Mao, Lijie Ren, Chuxin Liu, Juan Wang, Kui Li, Guangbiao Wang, Shulin Yang, Liangxue Lai, Guojie Zhang, Yingrui Li, Jun Wang, Lars Bolund, Huanming Yang, Jian Wang, Shutang Feng, Songgang Li and Yutao Du: The sequence and analysis of an inbred pig genome GigaScience 2012 1:16
2. Fang, X; Huang, Z; Li, Y; Feng, Y; Chen, Y; Jiang, X; Yang, L (2012): Genomic data from the Wuzhishan inbred pig (Sus scrofa). GigaScience. http://dx.doi.org/10.5524/100031
3. Martien A.M. Groenen et al., Analysis of pig genomes provide insight into porcine demography and evolution. Nature 2012 491, 393–398
4. Pig geneticists go the whole hog Nature 2012 491, 315–316