FAIRsharing Guestpost: What Criteria Matters with Data Repository Selection?
As part of the FAIRsharing Community Network (see previous blog) and joint Force11 and Research Data Alliance (RDA) FAIRsharing Working Group we have been involved in efforts to develop a shared, cross-publisher list of recommended data deposition repositories. The first fruits of these are a preprint from the working group and DataCite (of which we are also members) summarising what we feel should be the key criteria for selection. Being a (FAIR) sharing and caring community we are now seeking wider feedback on these, and the many publishers involved have published a guest post here explaining this work on data repository selection and providing a forum for wider community input.
FAIRsharing Needs You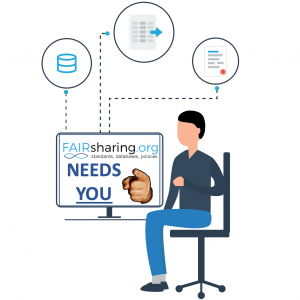 Publishers and journals are developing data policies to ensure that datasets, as well as other digital products associated with articles, are deposited and made accessible via appropriate repositories, also in line with the FAIR Principles.  With thousands of options available, however, the lists of deposition repositories recommended by publishers are often different  and consequently the guidance provided to authors may vary from journal to journal (see the GigaScience Editorial Policies & Reporting Standards page and FAIRsharing recommendation page collecting these together for examples). This is due to a lack of common criteria used to select the data repositories, but also to the fact that there is still no consensus of what constitutes a good data repository.
To tackle this, FAIRsharing and DataCite have joined forces with a group of publisher representatives (see the list of participants listed below) who are actively implementing data policies and recommending data repositories to researchers. The result of our work is a set of proposed criteria that journals and publishers believe are important for the identification and selection of data repositories, which can be recommended to researchers when they are preparing to publish the data underlying their findings.
Our work intends to
reduce complexity for researchers when preparing their submissions to journals,
increase efficiency for data repositories that currently have to work with all individual publishers, and
simplify the process of recommending data repositories for publishers.
Our work will make the implementation of research data policies more efficient and consistent, which may help to improve approaches to data sharing by promoting the use of reliable data repositories.
Although we recognize that researchers and other stakeholders play a role in the research data life cycle, in this first instance the target audience for our work are other journals and publishers, repository developers and maintainers, certification and other evaluation initiatives, and other policy makers.
This proposed criteria are intended to:
guide journals and publishers in providing authors with consistent recommendations and guidance on data deposition, and improve authors' data sharing practices;
reduce potential for confusion of researchers and support staff, and reduce duplication of effort by different publishers and data repositories
inform data repository developers and managers of the features believed to be important by journals and publishers;
apprise certification and other evaluation initiatives, serving as a reference and perspective from journals and publishers;
drive the curation of the description of the data repository in FAIRsharing, which will enable display, filter and search based on these criteria.
We invite you to read the pre-print article that describes the work, its motivation, relations to other initiatives, and provide us with feedback via this form.
FAIRsharing Registry: connecting data policies, standards & databases Working Group:
Susanna-Assunta Sansone, Peter McQuilton, Philippe Rocca-Serra (FAIRsharing) Helena Cousijn2 (DataCite), Matthew Cannon, Nicholas Everitt (Taylor & Francis), Wei Mun Chan (eLife), Ilaria Carnevale, Marina Soares E Silva (Elsevier), Imogen Cranston, Hollydawn Murray, Jonathan Threlfall (F1000), Scott Edmunds (GigaScience), Emma Ganley, Iain Hrynaszkiewicz (PLOS), Chris Graf, Kathryn Sharples (Wiley), Varsha K. Khodiyar (Springer Nature), Thomas Lemberger (EMBO Press), Catriona J. MacCallum (Hindawi), Kiera McNeice (Cambridge University Press)
Further Reading
Sansone SA et al., Data Repository Selection: Criteria That Matter, v2. OSF Preprints (2019) https://osf.io/m2bce/
Sansone SA et al., FAIRsharing, a cohesive community approach to the growth in standards, repositories and policies. Nature Biotechnology 37, p358–367 (2019) doi:10.1038/s41587-019-0080-8