GigaScience on the road…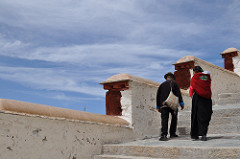 After the launch of the GigScience website last week, and a call for papers this week, it's now time to start  meeting and talking with potential authors. After a busy batch of conferences hosted by the BGI, including the  first meeting of the Earth Microbiome Project (see the slides and video of our talk) and last weeks Bio-IT APAC  meeting, our editors are now heading out on the road with a busy summer season of conferences lined up. Follow their updates and coverage of the meetings on the GigaScience and BGI_Events twitter pages, and feel free to arrange a chat about your work and the journal and database.
This week, GigaScience editor Scott Edmunds will be talking to the Computational Biology community at the ISMB/ECCB meeting in Vienna. Feel free to track him down via the BioMed Central booth (#11). Alexandra Basford will also be exploring big data issues in Neuroscience at IBRO in Florence, followed by CNS*2011 in Stockholm. Hope to see many of you there!