Remember Remember, It's Neuro-November!
Forget Movember – with all the cool open brain science activities happening at GigaScience and the upcoming Society for Neuroscience (SfN) 2016 meeting in San Diego (November 12-16), we are naming it Neuro-November! As a broad scope journal focused on reproducible research – fostered by publishing all research objects (data, code, tools and workflows) and integrating them together – we are further enhancing our innovative publishing efforts with open neuroscience content from our Brainhack series, guest edited by Cameron Craddock, Daniel Margulies, Pierre Bellec, and Nolan Nichols.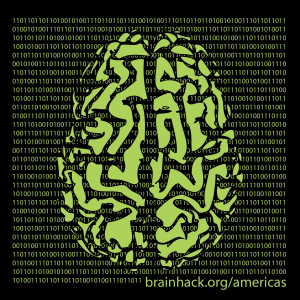 This exciting month has kicked off with the recent publication of a latest Data Note from Benjamin Puccio et al. on manually corrected skull stripped outputs, and 2015 Brainhack project reports – both part of our Brainhack series (see the series portal here). This series serves as a venue for publishing Data Notes and full research articles that feature open tools for neuroscience and links with project reports from Brainhack events. Brainhack events are held in an open, collaborative workshop format and caters for the rapidly growing neuroscience community. A key feature of these events and projects generated from their collaborations is open science. The recently published reports are short summaries of open tools created from Brainhack Americas events in 2015. And in true open science fashion, everything is open in GitHub with each project having their own page containing further supporting metadata in our open repository, GigaDB with citable DOIs. Over the past few weeks, we have been releasing individual project DOIs, and there is more to come. Many of the individual projects have picked up attention through social media, and as with our early release of bird genomes from the Avian Phylogenomic project doubling traffic to GigaDB, we've seen a 50% increase in page views since we started releasing fun and quirky projects such as a fMRI-data playing brain orchestra and Arduino controlled dog vests. You can read more about how Brainhack events have evolved here.
Not only are we supporting the "hacking of brains", but also Advances and Challenges in fMRI research in our fMRI series, Guest Edited by Russ Poldrack, which complements Brainhack.  As an innovative journal, keen to continue pushing the boundaries of innovative publishing, this makes us the natural partner for Brainhack and open neuroscience given our ethos of supporting openness and reproducibility in science by publishing ALL research objects (did we mention the data, code, tools and workflows?). We welcome and encourage more submissions for both these series.
Battle Against the Zombie Paper Apocalypse – An Annotation Competition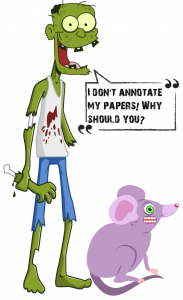 Our Editor, Nicole Nogoy, will be attending the SfN 2016 meeting (November 12-16, San Diego) – and this year GigaScience has teamed up with some of our FORCE11 open science and reproducibility partners (Neuroscience Information Framework (NIF), SciCrunch, Resource Identification Initiative and Hypothes.is), to bring you the RRID Zombie Paper Apocalypse Battle at the NIF Booth (#4115). This is an annotation competition open to anyone willing to help us battle the zombie paper apocalypse with the goal to make research more reproducible. We'd like to encourage everyone at SfN to join the battle by adding as many RRIDs to neuroscience manuscripts as possible using the hypothes.is tool. The GigaScience Annotometer will be a live leader board displaying which participants are making the most annotations. Cool GigaScience swag prizes and Brain hats will be awarded by random selection from participants.
Everyone keen to join the battle can sign up before SfN 2016 and more information on how to get started will be available soon, so watch this space!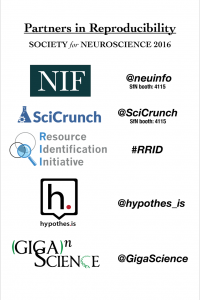 If you want to know more about innovative open science publishing – meet Nicole at the NIF booth (#4115), tweet her @medi_cole, or join her for a Zombie drink or two at the "Reproducible Research Through Open Science" party and SfN Banter (supported by INCF, NIF, SciCrunch, GigaScience, Mendeley and CaymanChem); on Monday, November 14 at The Tipsy Crow (starting 8pm; with SfN Banter starting at 9.30pm). The party kicks off with short lightning talks by Brainhack series Guest Editor, Cameron Craddock and GigaScience Ed Board Member, Maryann Martone; where you can learn more about our innovative publishing and open science efforts – spaces are limited.
Save