Meetings, Meetings And Extended Deadlines For The ICG-13 Prize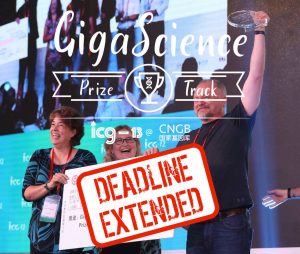 Due to popular demand we are keeping the paper submission deadline of our ICG prize track open until the end of the month. We've already received more submissions than our first competition last year, and a number of other submitters have been putting their finish touches to submission. Its easy to submit as you just have to have your unpublished work in bioRxiv and use our integrated b2J functionality to click it through to us. Winning entries will again get registration and travel covered to come out and present their work in Shenzhen in late October. Carrying out open and transparent peer review the submissions so far can be viewed on our Preprint.Space conference page, and  you can see more in our blog and the guidelines below.
Submission Guidelines:
Paper submission deadline: June 30, 2018 [extended]
First round of peer review: August 15, 2018
Presentation decision: September 15, 2018
Papers submitted for review should follow our scope and represent original, previously unpublished work that use, produce, or provide analysis tools for large data in 'omics fields.
Submit your paper through bioRxiv, then use the integrated functionality to transfer it to GigaScience.
Include a note in the covering letter or send us an email stating: "This is a submission to the GigaScience Prize Track".
Once your submission is live, we will add it to the Preprint.Space channel here: http://preprint.space/conference/ICG13
If the paper is one of the winners, once it is published it will also be highlighted in the GigaScience Prize Track page: https://academic.oup.com/gigascience/pages/prize_track
See the icg-13.org website and competition page for more information, and for further questions concerning the submissions, please contact the GigaScience editors at editorial@gigasciencejournal.com.
ConGen-ial Conferences
On the topic of deadline extensions, another meeting we are supporting this summer is ConGen (Recent Advances in Conservation Genetics), where we are supporting two GigaScience scholars (see GigaBlog). Our EiC Laurie will be attending the meeting at Front Royal, Virginia, U.S.A. from August 19 – 30th. Late registration is still available for a few places on the course, so make sure you sign up from their website here. The course is co-directed by winner of last years ICG prize Taras Oleksyky, so you can get a taste of the type of research you will learn about from the video of his Solenodon genome talk here.
We have a busy summer going to a number of other conferences, including as silver sponsors and exhibitors at GCCBOSC (hopefully getting more submissions for our popular Galaxy series), and if you know anything about our summer traditions, at ISMB. With the journal originally launching back at ISMB2012 in Long Beach we've been celebrating our birthday every year, and in Chicago this year we will have one of our famously boisterous birthday bashes on Sunday 8th. For more details watch this space, and if you are at any of these meetings we look forward to catching up.