Apply for GigaScience Scholarships at ConGen 2018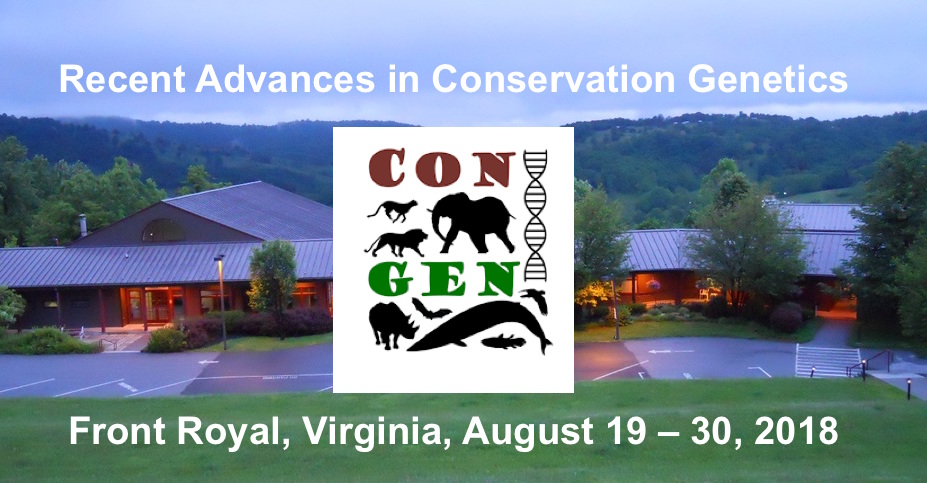 ConGen (Recent Advances in Conservation Genetics), an international course taught by leading experts in the field, is a fantastic opportunity to learn how the latest genomic and genetic methods contribute to conservation science.
Protecting endangered species also means we have to know as much as possible about them. ConGen will bring you up to speed about the tools and methods that are available today to do molecular research on non-model organisms in conservation contexts. Wildlife forensics is one area that is being revolutionised by genomics (see our recent blog covering this), and management and captive breeding of endangered species is another area with similar potential.
GigaScience is again supporting the event, which will take place in Front Royal, Virginia on August 19 – 30. The meeting is at a fantastic location this year. Front Royal is the northern region of the Shenandoah Valley, right by the spectacular Skyline Drive in Shenandoah National Park. The course is directed by our Ed Board Member Stephen O'Brien, and previous GigaScience authors Taras K Oleksyky, Klaus Koepfli and Eduardo Eizirik.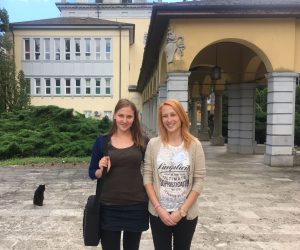 If you are a conservation-minded scientist, this course is an experience you don't want to miss. There is an opportunity to apply for partial or full scholarships, but you need to hurry – the deadline for applying for one of the scholarships is tomorrow, March 15. Organised every two years, for the 2016 course in Balaton, Hungary we sponsored two studentships, Katalin Pasztor and Aniko Kurali (pictured) being the two winning GigaScience scholars. For the 2018 meeting we will be doing the same, so apply now if you'd like to be a candidate for the scholarships. If you miss the scholarship deadline there is still plenty of time for regular applicants to meet the early bird deadline on the 1st May.
Participants will learn how to handle pipelines and tools for analyzing genomic and genetic data, including computer demos and exercises, and there will be exciting talks by invited speakers in the evenings. But even in 2018 conservation science is not done exclusively at the computer. A field trip is also part of the program.
As Taras Oleksky explained in the run-up to the 2016 event, "the course brings people together and makes them interact: Those in the field that do not have much experience working in the laboratory need to understand genetic data, and those who mostly work in laboratory or to develop and interpret the results."
One of the major changes for conservation genomics is of course the rapid advance in sequencing capabilities, and the sinking costs of getting DNA data. Sequencing on a massive scale is now becoming widely available, even for conservation projects that are running on a budget.
For the previous, 2016 ConGen, the organizers asked course faculty a couple of questions, among them: "How in your experience did the definition of this field change in the recent years with the adaptation of genome-wide data?"
Many of the experts pointed out that the field itself, its objectives and questions, do not really change. Tom Gilbert (University of Copenhagen) for example said, "We're just making better educated guesses about what's going on". On the other hand, it's also clear that whole genome sequencing is an "enabling technology", as Oliver Ryder (San Diego Zoo) pointed out, and Brazilian ecologist Eduardo Eizirik added: "We can now address question at a level that we could not anticipate ten or twenty years ago."
The genomic revolution also means that students who are interested in conservation science can and should combine their passion for wild animals and plants with learning new skills, as  another previous course faculty, Jose Lopez, said: "Conservation geneticists need to be competent biologists first, but they can excel even further with computational prowess and programming skills."
ConGen participants will make a step forward towards mastering this combination of skills.