Guest Posting: Help Crowdfund the Transbiome
Following our efforts promoting open science and "community genomics" projects that have included the "Peoples Parrot", community cactus, and our very own Bauhinia Genome, today we have a guest posting from the Transbiome team. Who are working on new community driven research program using crowdfunding and co-creation to discover the diversity of the neo-vaginal microbiome. We've covered another example of a community microbiome project on cats (see Kittybiome), but like the microbiome datasets we've been publishing (including these two new Data Release papers in GigaByte presenting urinary microbiome and the microbiome from bone-loss patients) this work should have direct implications for human health. As a great example of participant-centered research, unsurprising as two of the Open Humans team are involved (see their paper in GigaScience), the Transbiome team explain more about their project, and how they need your help to make the study happen.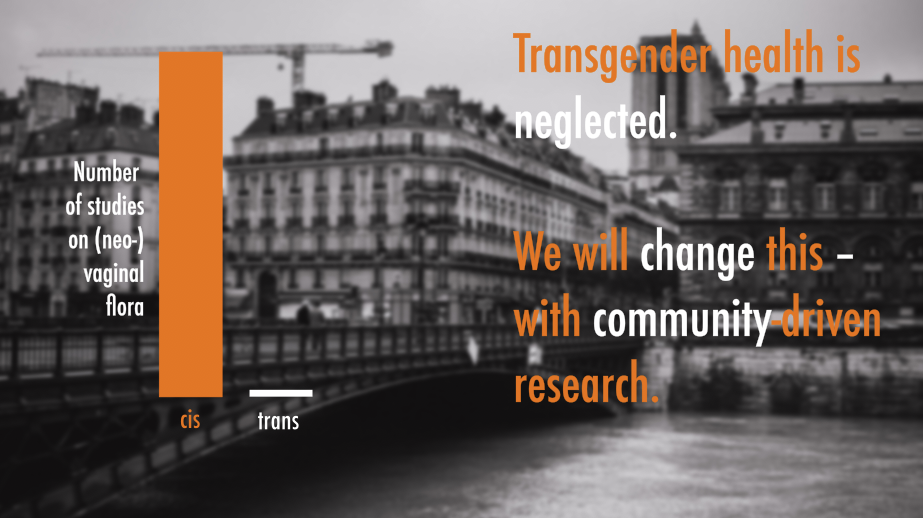 What's the Transbiome?
Trans women who have a gender affirmation surgery gain a new organ – the neo-vagina. Following the surgery it becomes host to its own microbiome that colonizes this new organ! But what bacteria and fungi make up this new microbiome? Good question, because no one really knows right now! And, given that there's many different techniques to perform gender affirmation surgeries – with different tissues being used to construct the neo-vagina – it might well be the case that different surgery techniques, methods of post-operative care and other factors influence the composition of the microbiome!
That's why our Transbiome study – which is led by a team that is majority trans – will investigate the fungal and bacterial neo-vaginal microbiome. We aim to map out the diversity of the microbiome and also see if there are correlations between different external factors such as surgery technique and the type of microbiome that establishes itself.
Why is this important?
The microbial flora of cis-women's vagina has been studied extensively. That's why we know how bacterial vaginosis and yeast infections occur and how we can treat them. And it doesn't stop there: The vaginal microbiome has also been linked to conditions like neoplasia and the risk to develop cancer!
Trans women's can suffer from (neo-)vaginal infections in the same way as cis-women. But as we lack even basic knowledge about how their microbiome looks like, they currently can't get access to the same gynecological care as cis-women. By providing a survey of the neo-vaginal microbiome we will help to provide the basic research that is necessary to improve trans healthcare in the future!
How are you planning to do this?
Our goal is to work closely with 50 trans women from across Europe. We will send them a sampling kit that allows them to easily and safely collect a microbiome sample from the privacy of their own home. Along with the sampling they will fill out a short survey about the surgery technique used, what they did for post-operative care and some other parameters – like whether they suffered from infections. These samples and answers are then sent back to us anonymously.
Those microbiome samples will then be sequenced for both the 16s rRNA for bacterial taxa and ITS sequencing for fungal taxa, each at around 50,000 sequencing reads per sample. This, paired with the number of participants, should allow us to get a good first picture of how diverse the neo-vaginal microbiome is between participants and also see if there are particular types that cluster together based on the secondary characteristics.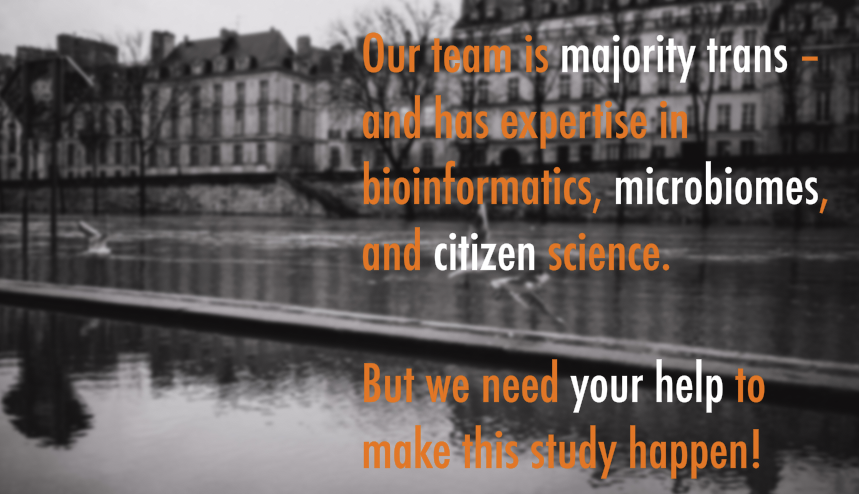 Help us to Crowdfund
Our Transbiome study will not only provide basic knowledge but it happens in a context where it can be a promising first step to enable better gynecological care for trans women. We will share the individual data generated from each sample with the participant – and of course also share the deidentified raw data to enable the broadest possible re-use of it. Using the same CC0 Public Domain Dedication that GigaScience mandates to maximise reuse, all scientific outputs such as publications will also be made available and will be released under open licenses.
But to make this happen we need your help: As the Transbiome started as a participant-driven student project we rely on crowdfunding to make this study happen. With around €4,000 we can already analyze the first 20 samples, with the optimum funding we will be able to do the full 50 samples. Any contribution you might be able to do – no matter how small – brings us a step further to this! And please also share our project with your friends and colleagues! 
To make this happen please help with crowdfunding and finding potential participants via the project page here: https://en.goteo.org/project/transbiome